State Missions
Send support/donations to:
NC State Home Missions
P. O. Box 34
Davis, NC 28524
Freedom FWB Church

Roanoke Rapids, NC
4516 Highway 125 East
Halifax, NC. 27839
http://www.roanokerapidschurch.com/
Ministry History
We wanted to share with you the big events leading up to our self-supporting status for Freedom Free Will Baptist Church. Bro. Fred Carraway traveled raising support, May 2006-May 2007. The church had their first meeting on May 23, 2007 (27 present) at the Comfort Suites in Roanoke Rapids. We stayed in the hotel for a little over two years. During this time, Sunday and Wednesday evening services were held in the Carraway's home, often having over 50 in attendance. We moved into the BB&T mobile unit during the summer of 2009 and began construction of present building in 2010. We moved into the new building, Christmas of 2012. We were able to get everything paid off in June 2017. On January 9, 2021, we went self-supporting! We can't thank everyone enough for the generous support for this NCFWB Mission work! We are truly humbled by the generous love and outpouring of support from everyone who has given and prayed and worked so hard. TO GOD BE THE GLORY! GREAT THINGS HE HAS DONE! Click HERE to see some pictures from this special day.
Glad Tidings FWB Church

2539 Old State Hwy 49
Asheboro, NC 27205
https://gladtidingsasheboro.com/
Ministry History
In 1994, Glad Tidings FWB Church started as a church plant by the North Carolina Association of Free Will Baptists Home Missions Board under the leadership of Pastor Bob and Mrs. Joann Edmonson. By 1999, the church had built the building on Old NC Hwy. 49, and Bro. Bob continued to lead the congregation into the new millennium. In 2013, after 19 years of faithful service, Bro. Bob retired from the pastorate. The congregation called Daniel Webster to be its second pastor later that year. After a successful pastorate, Bro. Daniel was excited to be granted the opportunity to serve Welch College in Gallatin, TN. Pastor Dale McCoy began his tenure on January 1, 2018 as the revitalization Pastor of Glad Tidings FWB Church, in partnership with NCFWB Home Missions Board.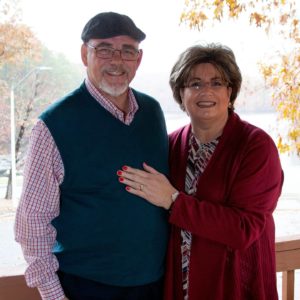 Dale McCoy's Bio
Dale McCoy was born in Franklin, NC, December 27, 1958. He was saved, and later baptized on April 26, 1970 by Georgia Free Will Baptist missionary Hubert Henderson, who was attempting to plant a church in Marietta, GA. Dale answered the call to preach the gospel in November 1974 at Welcome Home Free Will Baptist Church, located in Northern Greenville County in South Carolina. He was subsequently licensed to preach by the church on February 16, 1975, and later by the Beaver Creek Association of South Carolina Free Will Baptists. Dale attended Welch College (Free Will Baptist Bible College) from 1980–1982. There, he met the love of his life, Julie Kay Cooper of Milton, WV, and they were married September 11, 1982. Upon accepting his first pastorate, Dale was ordained by the Beaver Creek Association on February 12, 1984. Dale has served 9 churches in 6 States, including two pastorates in North Carolina, and has held various denominational positions, including Moderator for the Kansas State Association of Free Will Baptists and General Board member for the National Association of Free Will Baptists.